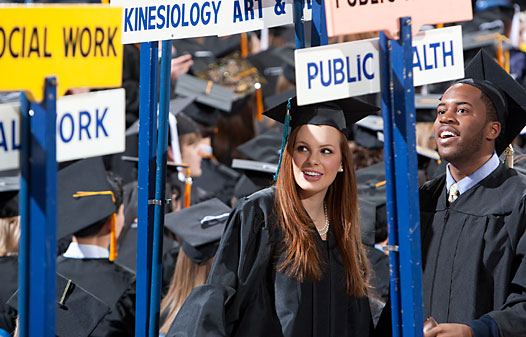 What is the difference between MENG and MS degree programs?
The M.Eng degree is set up to be completed in two semesters. No thesis is required; a final written report on the design project replaces the thesis. The program requires a minimum of 30 credit hours of technical graduate-level course work and work on a real-world design project. The project may either be in a group setting or an individual project. The program is intended for those interested in professional practice and engineering.
The M.S. degree is a research-oriented program that usually takes 4 semesters to complete and requires an independently written thesis. There are no credit-hour or specific course requirements. Each student's program (course work and research) is individualized and decided upon in consultation with a Special Committee which the student selects and that is made up of faculty from the student's major and minor subject areas. The program is intended for those interested in a research or academic career and, generally, continuation into a PhD program. In fact, several of our concentrations will not accept terminal MS applications. Those interested in a terminal Master's degree should apply to the Master of Engineering program; others may apply for the combined MS/PhD program. Competition for these assistantships and fellowships is very keen and in general only about 5% of new M.S. (/Ph.D.) applicants will receive an offer of financial aid. Please note that because there are no credit-hour requirements in the M.S. (or Ph.D.) program, credits earned at another university cannot be transferred to an M.S. (or Ph.D.) program at Cornell.
Both the M.Eng and M.S. degrees are excellent preparation for a Ph.D. program or for a career.